1

Chapter 1

Lesson 1.

Why invest?

Lesson 2.

Knowing the variables

Lesson 3.

Analyzing your product

Lesson 4.

Kitchen backup

Lesson 5.

Analyzing Your Audience

Lesson 6.

Determining your first strategy before starting the transformation

Lesson 7.

Characteristics of food truck x service truck

Lesson 8.

Time x layout = money

2

Chapter 2

Lesson 9.

Time to think like an engineer

Lesson 10.

Materials

Lesson 11.

Color tips

Lesson 12.

Investment versus time

Lesson 13.

Electrical or gas equipment

Lesson 14.

installations

Lesson 15.

Documentation involved

Lesson 16.

Technical Documents

Lesson 17.

Cash flow and financial planning

3

Chapter 3

Lesson 18.

Planning the first row

Lesson 19.

Importance of the leader

Lesson 20.

Answer: time to shiver

Lesson 21.

You have time? Learn how to manage your day

Lesson 22.

Turning conflicts into solutions

Lesson 23.

Negotiation process and its phases

Lesson 24.

Managing Your Customers

Lesson 25.

Social media and business

Lesson 26.

Stages and styles of events

Lesson 27.

Shows, events and festivals ?? or what awaits you?
About the Certificate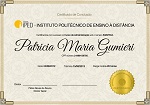 Only in iPED can you print the digital certificate for free or choose to receive this beautiful certificate at home (additional cost of + freight). On the back of the certificate is the schedule, CNPJ stamp and the signature of the person in charge, characteristics that are mandatory for the validity of the certificate.
Online chat

Pad

Study Groups

Virtual instructor

Support material

Online reports

Interactive animations

Explanatory videos
Only iPED can offer a quality service for free. We are the only company in the industry that possesses all the qualities and numbers below:
Purchase Security Differentials
Professional security audit;
Digital certificate with 256-bit encryption in transactions;
Quality with the consumer award;
National reference award in education;
National reference award in social projects
Differentials in Services Offered
Content-rich video, games and animations online;
Accumulation of loyalty points;
satisfaction rate of more than 98.5%;
indication index for friends over 98%;
Index that considers good / optimal material of more than 95%;
Online, face-to-face or telephone service;
Service through 0800 (free connection for all of Brazil);
Variation of the workload from 20 to 120 hours for free courses;
More than 500 online courses;
Significant testimony for each course attended;
Presence in more than 60 countries;
Thousands of students enrolled in courses;
More than 1 million consumers of our services.