1

Chapter 1

Lesson 1.

HIV and AIDS: Emergence of disease

Lesson 2.

The US epidemic

Lesson 3.

And she arrived in Brazil.

Lesson 4.

Acute infection

Lesson 5.

Clinical Latency

Lesson 6.

AIDS

Lesson 7.

HIV transmission

Lesson 8.

Preventing HIV

Lesson 9.

Risk behaviors

Lesson 10.

About Transmission

Lesson 11.

Prevention

Lesson 12.

Sorodiscordants

2

Chapter 2

Lesson 13.

HIV and homosexuality

Lesson 14.

Risk Groups

Lesson 15.

LGBT Policy

Lesson 16.

Transmission in the gestation

Lesson 17.

The birth

Lesson 18.

Breastfeeding

Lesson 19.

Professional Risk

Lesson 20.

Prevention in services

Lesson 21.

Accidents

Lesson 22.

Initial exams

Lesson 23.

Neurological evaluation

Lesson 24.

Assistance

Lesson 25.

When to start?

3

Chapter 3

Lesson 26.

Patient Orientations

Lesson 27.

And the treatment?

Lesson 28.

Signals and symptons

Lesson 29.

Opportunistic Infections

Lesson 30.

Multidisciplinary assistance

Lesson 31.

Systematization of Assistance

Lesson 32.

Therapeutic plan

Lesson 33.

Care

Lesson 34.

Palliative care

Lesson 35.

Pain Management

Lesson 36.

End of life

Lesson 37.

Current scenario

Lesson 38.

Living with AIDS

Lesson 39.

And the future?
About the Certificate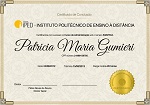 Only in iPED can you print the digital certificate for free or choose to receive this beautiful certificate at home (additional cost of + freight). On the back of the certificate is the schedule, CNPJ stamp and the signature of the person in charge, characteristics that are mandatory for the validity of the certificate.
Online chat

Pad

Study Groups

Virtual instructor

Support material

Online reports

Interactive animations

Explanatory videos
Only iPED can offer a quality service for free. We are the only company in the industry that possesses all the qualities and numbers below:
Purchase Security Differentials
Professional security audit;
Digital certificate with 256-bit encryption in transactions;
Quality with the consumer award;
National reference award in education;
National reference award in social projects
Differentials in Services Offered
Content-rich video, games and animations online;
Accumulation of loyalty points;
satisfaction rate of more than 98.5%;
indication index for friends over 98%;
Index that considers good / optimal material of more than 95%;
Online, face-to-face or telephone service;
Service through 0800 (free connection for all of Brazil);
Variation of the workload from 20 to 120 hours for free courses;
More than 500 online courses;
Significant testimony for each course attended;
Presence in more than 60 countries;
Thousands of students enrolled in courses;
More than 1 million consumers of our services.