1

Chapter 1

Lesson 1.

Introduction to the Study of Ethics

Lesson 2.

Concepts of Business Ethics

Lesson 3.

Evolution of Business Ethics

Lesson 4.

Ethic and moral

2

Chapter 2

Lesson 5.

Ethics and Philosophy

Lesson 6.

Ethics and other sciences

Lesson 7.

Code of Professional Ethics and its Difficulties in Being Implanted

Lesson 8.

Ethics and Social and Environmental Responsibility

Lesson 9.

Regulation of the Ethical Process of the System of the Federal Council of Administration (CFA)

3

Chapter 3

Lesson 10.

Professional Ethics, Social Relations and Individualism

Lesson 11.

Professional Virtues

Lesson 12.

Ethical Duties and Dilemmas of Profession

Lesson 13.

How to Develop a Code of Business Ethics?
About the Certificate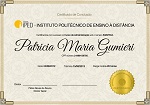 Only in iPED can you print the digital certificate for free or choose to receive this beautiful certificate at home (additional cost of + freight). On the back of the certificate is the schedule, CNPJ stamp and the signature of the person in charge, characteristics that are mandatory for the validity of the certificate.
Online chat

Pad

Study Groups

Virtual instructor

Support material

Online reports

Interactive animations

Explanatory videos
Only iPED can offer a quality service for free. We are the only company in the industry that possesses all the qualities and numbers below:
Purchase Security Differentials
Professional security audit;
Digital certificate with 256-bit encryption in transactions;
Quality with the consumer award;
National reference award in education;
National reference award in social projects
Differentials in Services Offered
Content-rich video, games and animations online;
Accumulation of loyalty points;
satisfaction rate of more than 98.5%;
indication index for friends over 98%;
Index that considers good / optimal material of more than 95%;
Online, face-to-face or telephone service;
Service through 0800 (free connection for all of Brazil);
Variation of the workload from 20 to 120 hours for free courses;
More than 500 online courses;
Significant testimony for each course attended;
Presence in more than 60 countries;
Thousands of students enrolled in courses;
More than 1 million consumers of our services.