1

Chapter 1

Lesson 1.

Initial Planning Steps

Lesson 2.

Dream has price and size

Lesson 3.

Discovering Your Style

Lesson 4.

Checklist and deadlines

Lesson 5.

List of wedding, layette and teas

Lesson 6.

Choices of spaces

Lesson 7.

The pillars of the party

Lesson 8.

Costs and expenses worksheets

Lesson 9.

Dress

Lesson 10.

Groom Costumes

Lesson 11.

Jewelry & Accessories

Lesson 12.

Ceremony

2

Chapter 2

Lesson 13.

Party

Lesson 14.

Bride's Bouquet

Lesson 15.

Types of union

Lesson 16.

Documentation

Lesson 17.

Rites

Lesson 18.

How to negotiate

Lesson 19.

Food and beverage calculations

Lesson 20.

Proof of decoration

Lesson 21.

Creating the couple's identity

Lesson 22.

Invitation templates

Lesson 23.

Office Supplies

Lesson 24.

The cake

Lesson 25.

Candy table

3

Chapter 3

Lesson 26.

Well married

Lesson 27.

To sweeten

Lesson 28.

To remember

Lesson 29.

To use

Lesson 30.

Technology to perpetuate

Lesson 31.

Pampering make the difference

Lesson 32.

Final checklist

Lesson 33.

Assembly

Lesson 34.

Courting

Lesson 35.

Schedule of the party

Lesson 36.

Closing the party

Lesson 37.

Who takes what and where?

Lesson 38.

Final report
About the Certificate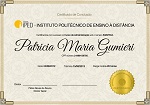 Only in iPED can you print the digital certificate for free or choose to receive this beautiful certificate at home (additional cost of + freight). On the back of the certificate is the schedule, CNPJ stamp and the signature of the person in charge, characteristics that are mandatory for the validity of the certificate.
Online chat

Pad

Study Groups

Virtual instructor

Support material

Online reports

Interactive animations

Explanatory videos
Only iPED can offer a quality service for free. We are the only company in the industry that possesses all the qualities and numbers below:
Purchase Security Differentials
Professional security audit;
Digital certificate with 256-bit encryption in transactions;
Quality with the consumer award;
National reference award in education;
National reference award in social projects
Differentials in Services Offered
Content-rich video, games and animations online;
Accumulation of loyalty points;
satisfaction rate of more than 98.5%;
indication index for friends over 98%;
Index that considers good / optimal material of more than 95%;
Online, face-to-face or telephone service;
Service through 0800 (free connection for all of Brazil);
Variation of the workload from 20 to 120 hours for free courses;
More than 500 online courses;
Significant testimony for each course attended;
Presence in more than 60 countries;
Thousands of students enrolled in courses;
More than 1 million consumers of our services.