Lessons and Certification

Find certificate details
How does certification work?
About the lessons
The courses have an online evaluation (10 objective questions that last 30 minutes) and three reflective activities (available throughout the course) with scores in the club of advantages and the final average.
Our courses have a messaging system, study groups, online reports, laptop, virtual instructor, video resources and interactive animations.
About Certification
You can print the digital certificate for free or choose to receive the "Special Certificate" at home (additional cost of + freight).
On the back of the certificate is the schedule, CNPJ stamp and the signature of the person in charge, characteristics that are mandatory for the validity of the certificate.
The sending of the "Special Certificate" is immediately after the approval and request. The delivery time varies from 3 (three) to 10 (ten) business days.
Our system guarantees 100% security.
Your company can confirm the authenticity of the certificate, since it has the best technology available in the market.
Example of a special certificate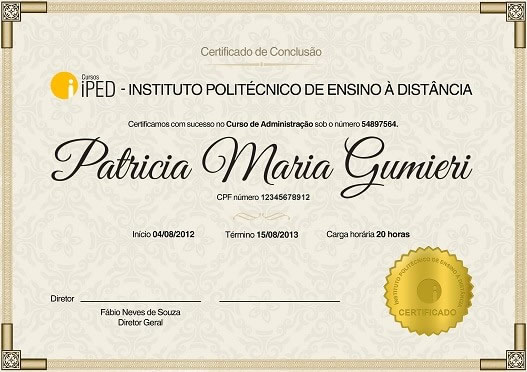 Testimonials from our students
"I did not know the iPED Courses, I found in a survey about online courses. It was the first time I took an online course and was able to print the certificate quietly."
Maria Helena dos Reis - Registro, Brazil

"It was a very profitable course to take this professional course, I will recommend to all iPED online courses, mainly because they offer free certificate."
Suelen Christine S. B. Mendonça - Rio de Janeiro, Brazil

"It is very good to take free courses, because people who work and have little time end up having online courses a great option to get courses with certificate."
Priscila da Rosa Costa - Campos do Jordão, Brazil